8.57pm
Addressing the US president in front of an audience of business leaders at Winston Churchill's birthplace, Mrs May insisted that Brexit provides an opportunity for an "unprecedented" agreement to boost jobs and growth.
Noting that more than one million Americans already work for British-owned firms, she told Mr Trump: "As we prepare to leave the European Union, we have an unprecedented opportunity to do more.
"It's an opportunity to reach a free-trade agreement that creates jobs and growth here in the UK and right across the United States.
"It's also an opportunity to tear down the bureaucratic barriers that frustrate business leaders on both sides of the Atlantic.
"And it's an opportunity to shape the future of the world through co-operation in advanced technology, such as artificial intelligence."
8.02pm
Mr and Mrs Trump flew by Marine One helicopter and swept into the palace courtyard in the armoured presidential limousine nicknamed The Beast.
They were greeted by Theresa May, dressed in an ankle-length red gown and red high-heeled shoes, and her husband Philip, dressed in black tie. Mrs Trump wore a floor-length yellow ballgown.
8.00pm
Here is what the Mr and Mrs Trump are wearing for their evening engagement at Blenheim Palace.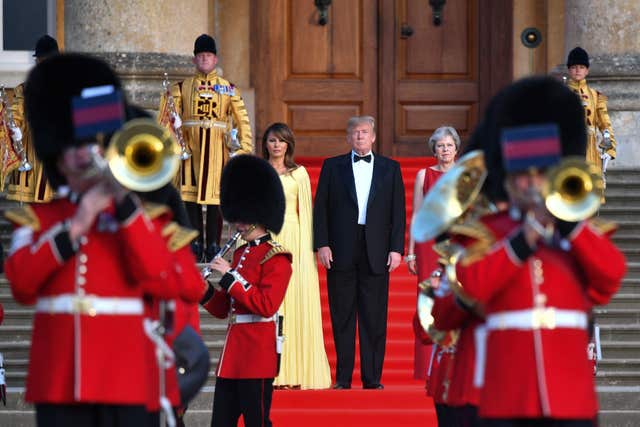 7.50pm

Theresa May and her husband Philip have welcomed Donald and Melania Trump to Blenheim Palace for a black-tie dinner.
7.15pm
More booing and jeering erupted among protesters as helicopters left Regent's Park.
6.37pm
A number of helicopters have arrived at Winfield House in Regent's Park, prompting boos and jeers from protesters gathered there.
5.22pm
A group of protesters have gathered outside the fenced-off area in Regent's Park not far from London Central Mosque.
Some carried placards saying "Special Relationship? Just Say No" and "No to Trump, No to War".
A handful of women made noise with a whistle, a saucepan and bells to make themselves heard.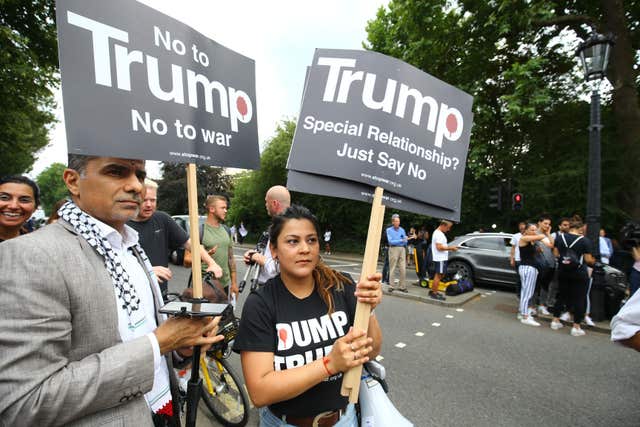 Jane, from Scotland, said: "I promised myself if he ever stepped foot in this country I would come out and protest."
The retired teacher, who did not wish to give her surname, said she mostly disagreed with Mr Trump's views on climate change but disliked his "whole attitude".
"It's me, me, me," said the 61-year-old who lives in Chichester.
Aria Vakami, from Greece, turned out for what she said was her first ever protest.
The 20-year-old, who now lives in London, said: "I really don't like his policies.
"I don't like him. He can come (to the UK) but I want to be able to protest."
4.59pm
Asked about Mr Trump's Brexit comments, a spokeswoman for the PM said: "The plan that we have put forward we believe is what people voted for and takes back control of our monies, laws and borders, and allows us to strike free trade deals around the world."
Regarding Mrs May's talks with Mr Trump at Chequers on Friday, the spokeswoman said: "She'll certainly be updating him on our proposals and where we are in negotiations."
4.06pm
Watch as Mr Trump touches down at Stansted for his first visit as president.
3.54pm
Dozens of people, including some with their children, have left a secured area in Regent's Park near Winfield House.
A number said they worked for the US Embassy in London.
Most were reluctant to speak, with some citing "job restrictions", but one woman said Mr Trump had given a "short speech" which she described as "lovely".
A US Embassy worker who did not wish to give his name said: "It was very complimentary to England and to the allies that we have, very positive."
They all left through airport-style security scanners which were manned by more than a dozen Metropolitan Police officers at a fenced-off area of Regent's Park.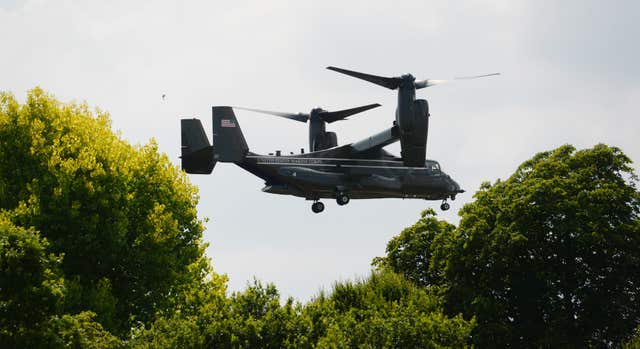 3.11pm
Donald Trump said earlier that he thinks the UK people "like him a lot", believing a lot of the country agrees with him on immigration.
3.05pm
A 15-metre banner branding Donald Trump a "human rights nightmare" has been unveiled by Amnesty International on Vauxhall Bridge in central London.
Amnesty UK director Kate Allen hopes Theresa May will discuss Mr Trump's track record on human rights during their time together in the coming days.
"His record for human rights is simply disgraceful, from ripping parents from children's arms on the Mexican border and putting them into cages, to the travel ban, to pulling the US globally out of the United Nations machinery that exists to advance human rights worldwide," Ms Allen said.
"This (the banner) is simply to be very clear this weekend, while President Trump is visiting, that we object to much of his record in terms of human rights and we want our Prime Minister to raise these issues with him."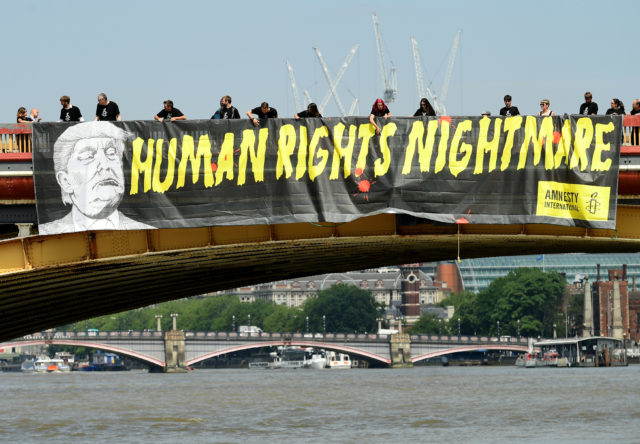 2.49pm
A US Marine Corps helicopter is keeping watch over the residence of the US Ambassador in London's Regent's Park.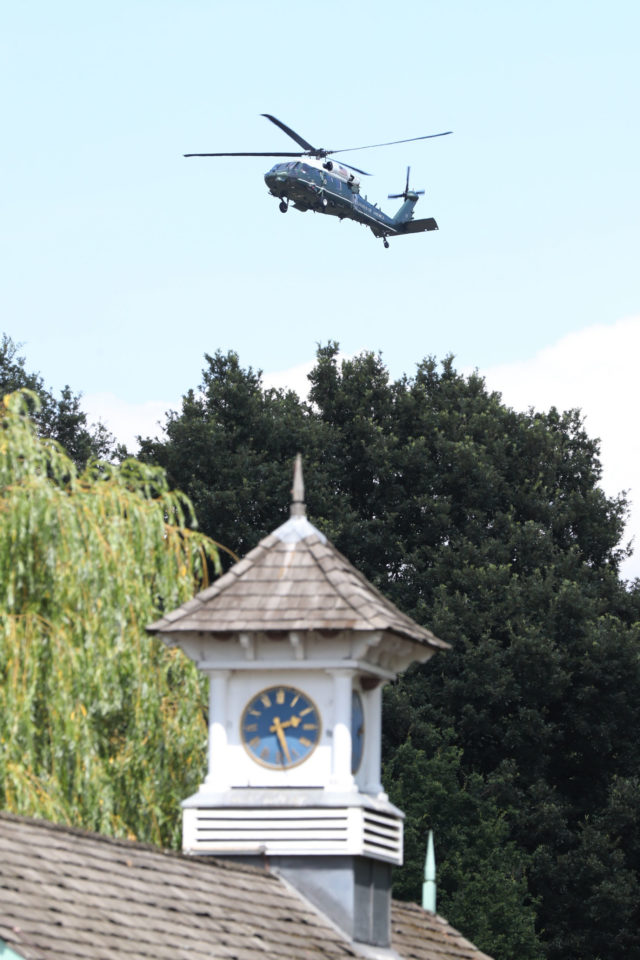 2.46pm
The president and his wife received an honour guard at Stansted Airport.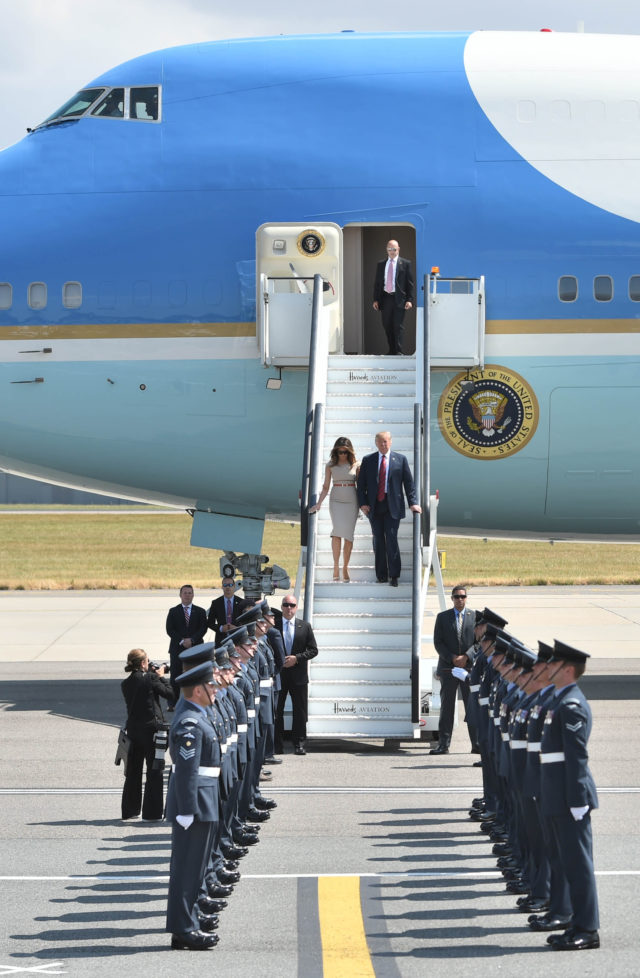 2.26pm
The couple spent a few moments greeting the welcoming committee before stepping into one of the White Hawks.
The president was delayed for almost an hour when the Nato summit in Brussels he had been attending overran because he demanded member states increase their contributions faster than originally planned.
Later, Mr and Mrs Trump will attend a black-tie dinner at Blenheim Place – the birthplace of Winston Churchill – in Oxfordshire, hosted by Theresa May.
They are scheduled to spend Thursday night at the US Ambassador's home Winfield House, in Regent's Park.
2.23pm
Donald Trump arrived at Stansted Airport with his wife Melania for his first official visit to the UK since his election.
Air Force One touched down at 1.50pm on a private airfield close to the airport where three MV-22 Osprey helicopters – used to transport his staff and security team – and two VH-60N White Hawks were waiting.
The US president gave a brief wave to the crowd before descending the steps holding the hand of the first lady, who wore a fitted beige dress and red belt.
They were met by International Trade Secretary Liam Fox, the Lord-Lieutenant of Essex Jennifer Tolhurst, chief operating officer of Stansted Airport Brad Miller and a regiment of RAF airmen.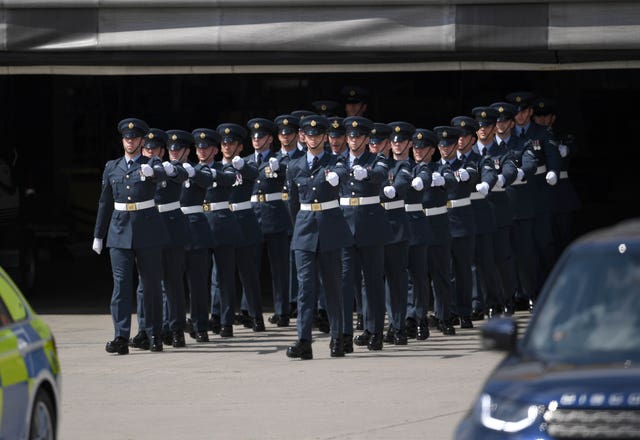 2.21pm
Command suites and co-ordinating groups based in Lambeth, south London, will involve a wide range of people including from all the emergency services, the military, Foreign Office and Home Office, plus officials who run transport services in London and beyond.
Metropolitan Police Commissioner Cressida Dick said they will be linked through to units at the same level in sectors such as the intelligence world.
She added: "They will be talking to teams on the ground and they will be liaising with police services up and down the country. They will be doing that in concert with the Civil Aviation Authority, the US Air Force and the RAF.
"We in this country, and I hope I do not regret saying this, are very good at this sort of thing."
2.06pm
Widespread protests are expected against Donald Trump's UK visit but "we will keep him safe", Metropolitan Police Commissioner Cressida Dick has said.
The Met will be responsible for the protection and security of the divisive US president and will also try to ensure lawful protests can be staged.
Ms Dick said: "We will keep him safe. We will facilitate lawful protest and we will uphold other people's rights as much as we can."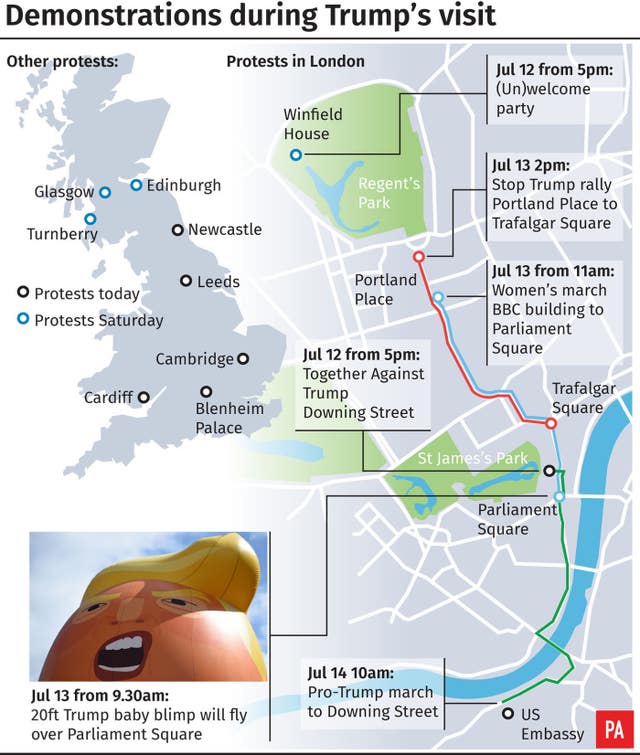 1.52pm
US President Donald Trump has landed at Stansted Airport on Air Force One on the first day of his visit to the UK.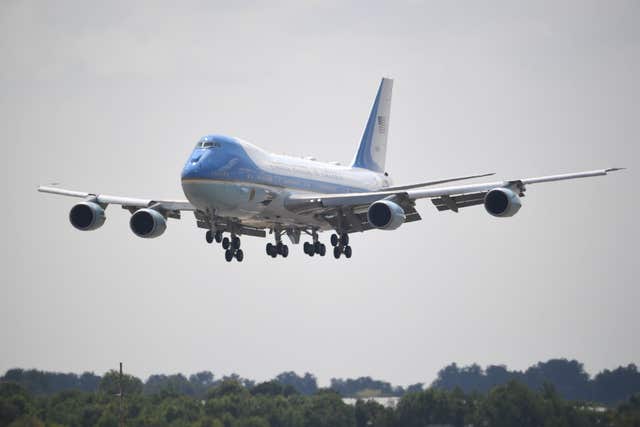 1.51pm
A giant inflatable "Trump baby" will be taken to Scotland to coincide with the US president's visit over the weekend.
Permission has already been granted for the 20ft balloon caricature to be flown over central London on Friday as Donald Trump visits the UK.
Organisers have also applied to fly it over his Turnberry golf course in South Ayrshire on Saturday.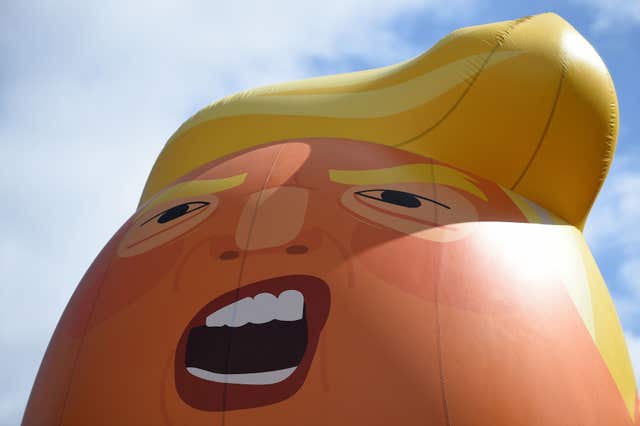 1.47pm
Asked if his trip to Menie had been arranged to coincide with his father's presidential visit, Eric Trump said: "We had it planned a little bit before, and they happened to link up, so it's exciting.
"I don't get to see him nearly as much as I used to get to see him and I'm excited to spend a couple of days with him – we're going to have a great time."
Asked if the president will visit Menie, Mr Trump said: "It's still to be decided. I'm certainly going to Turnberry and I'll see him there.
"I know he loves the east coast, he loves this property more than maybe anywhere else in the world, so I certainly hope he can get out here."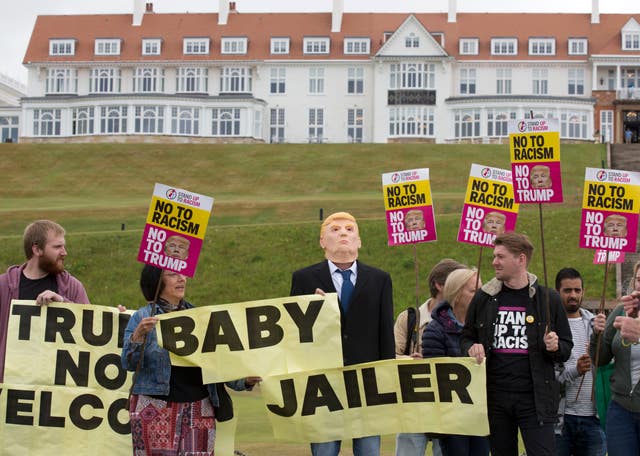 1.42pm
Eric Trump used his visit to Balmedie to speak about his family's love of Scotland and the UK.
He described the Menie estate, where his father was controversially granted permission to build a golf course, as "one of the most magical places in the world, one of the most beautiful places in the world".
Asked about his father's visit and US-UK relations, he said: "He has worked here for so many years, he knows so many people. His mother – my grandmother – is from Scotland.
"We just love this country, we love the UK in general and it's a big part of our lives. It's a big part of his life, pre-politics, and that can only be a positive."
1.31pm
Donald Trump's son Eric has arrived in Scotland ahead of his father's visit to the UK.
Eric Trump is playing golf at the Trump International Golf Links at Menie, Aberdeenshire, and also plans to visit Trump Turnberry, near Girvan, South Ayrshire.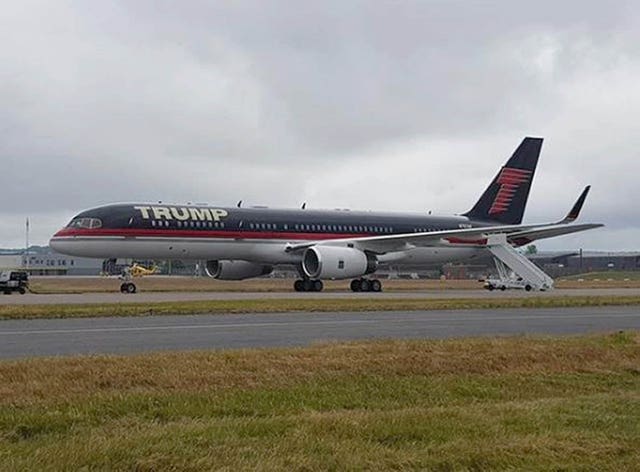 1.29pm
Police have imposed restrictions on a pro-Donald Trump rally during the president's visit.
Scotland Yard said the Welcome Trump procession was planning to join with a Free Tommy Robinson march, backing the jailed far-right activist.
The Metropolitan Police said the restrictions were because a Robinson rally in London on June 9 caused "serious violence".
The pro-Trump rally will breach the Public Order Act if it does not start at 1pm on Saturday at Temple Place, central London, and follow a route to Whitehall where it must end at 2pm, the Met said.
A Unite Against Fascism counter-protest has also had conditions imposed and must assemble south of a police barrier in Parliament Street after noon and finish by 6.30pm. The restrictions do not apply to a Stand Up To Racism march.
1.22pm
Donald Trump's military entourage arrived at Stansted Airport well before the US president, who was delayed at the Nato summit in Brussels.
Awaiting him on the tarmac were three MV-22 Osprey helicopters belonging to the US Marines which are used to transport his staff and security detail on overseas trips.
Two VH-60N White Hawk helicopters staffed by military officers in dress uniform were waiting nearby.
Press were asked to don neon orange vests while a flatbed truck was stationed on the tarmac to ensure photographers and cameramen got the best view of Mr Trump's arrival.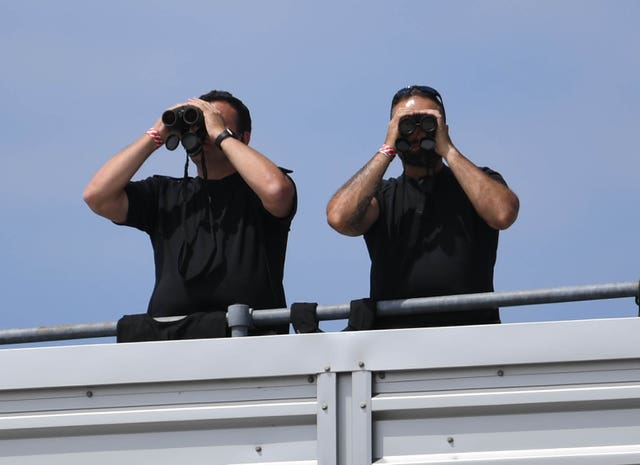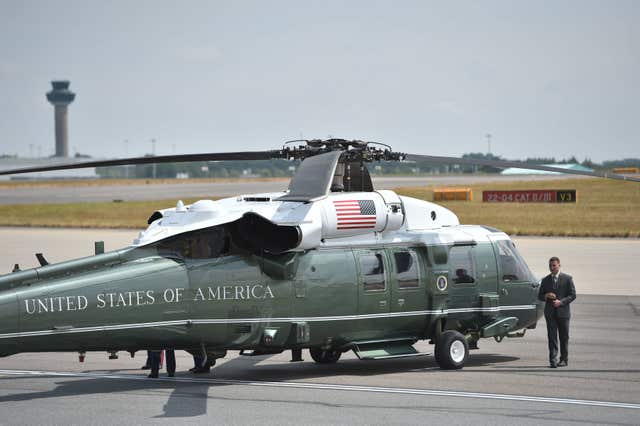 1.13pm
Donald Trump is due to touch down in Britain for a four-day trip that is expected to leave taxpayers with a police and security bill of up to £10 million.
Theresa May will host the US president and his wife Melania days after he said the UK was in "turmoil" following the Cabinet resignations triggered by the Prime Minister's Brexit plans.